North Fire Station at Secretariat Complex Kohima Inaugurated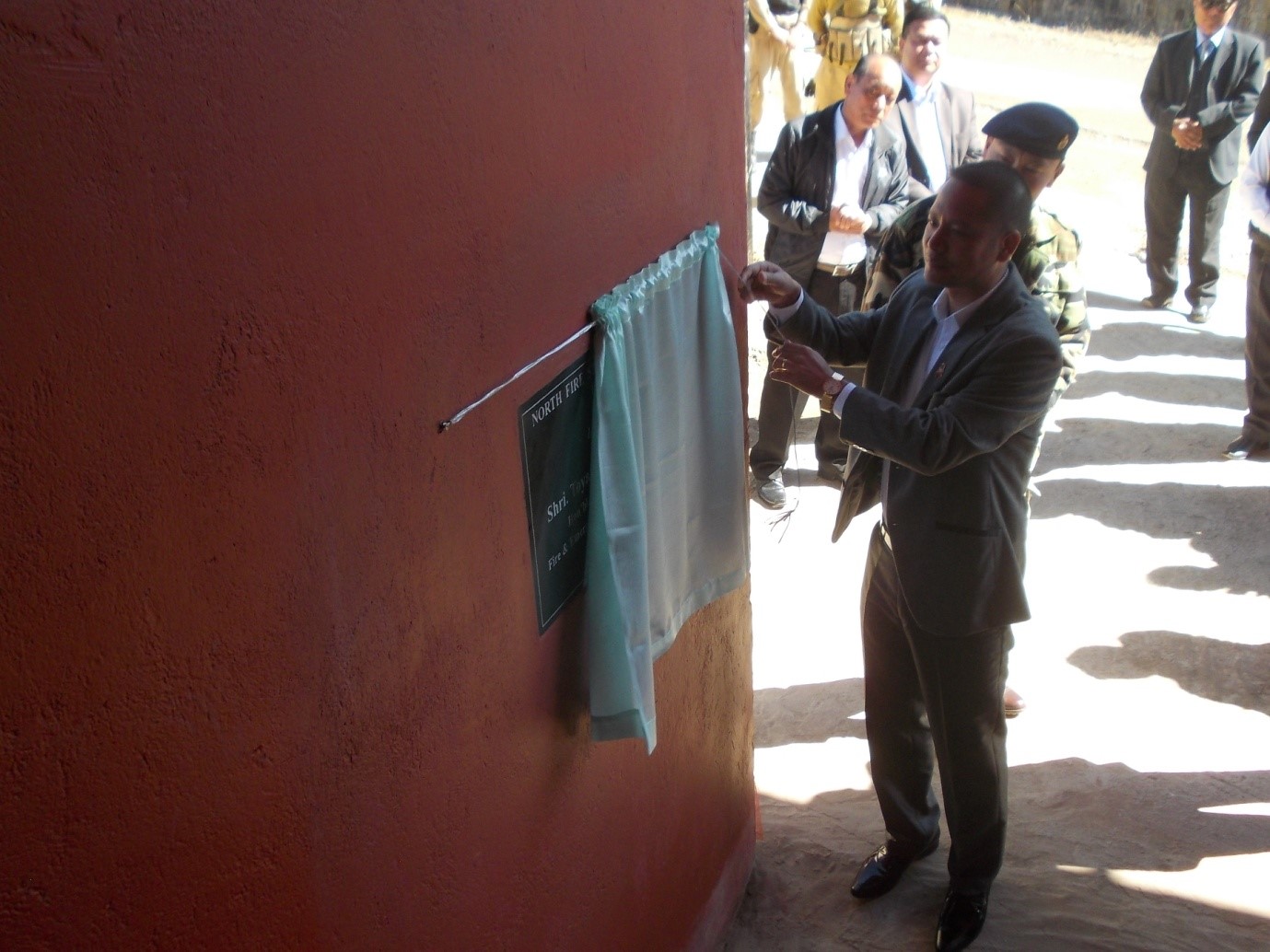 North Fire Station at Secretariat complex Kohima was inaugurated on 24/11/2015 by Shri. Toyang Changkong Chang, Hon'ble Parl Secy, Fire & ES and NRE in presence of Shri. Yanang Konyak, Hon'ble Chairman, NPSC, Shri. Neihu Thurr, IAS, Home Commissioner, Nagaland, Shri. L.Singsit, IPS,IG(F&ES) & Spl Secy (Home), Shri. Kikheto Sema, IAS, Secy Finance, Smti. Sara Ritse, Secy, NPSC, Shri. I. Meyionen, DIG & Director, Vigilance, SP Kohima, ADC Kohima, officials from Departments of Finance, Planning & Coordination, Home, IPR, Home Guards & CD, Police Engg Project, Fire & ES, President of NAPO & NAYO, Chairman of Kohima Village Council & Tsieramia Council and well wishers attended the said function. The programme was chaired by Shri. Neilasa Sopfii, DIG (F&ES). Shri. L. Singsit, IPS, IG (F & ES) and Spl Secy (Home) delivered welcome speech and also informed that Rs.89.63 lakhs was sanctioned under NEC (2013-14) for construction of Fire Station (Garages, Office with barrack accommodation) and the work was executed by Shri. Atuolie Mepfu-o, Class-I Contractor in 2014 and completed in 2015 under the supervision of Police Engg Project. He also appreciated the workmanship carried out by the said Contractor. Shri. Neihu Thurr, IAS, Home Commissioner & Shri. Vilieo Rutsa, President, NAPO delivered a brief speech on requirement and necessity of Fire Station. Shri. Toyang Changkong Chang, Hon'ble Parl Secy highlighted a brief history and activities of the Dept which are furnished below:
Nagaland Fire & Emergency Services was bifurcated from Nagaland Police on 01/04/1990 and formed as a separate Directorate with 8 (eight) Fire Stations due to its technical profession. From 2011 onwards the Department had initiated various visions and activities with the approval of the State Govt . MHA, Govt of India had conducted a detailed survey about the requirement of Fire Stations in Nagaland. As per MHA report, Nagaland State should have 48 (forty eight) Fire Stations. Since 2011 our State Govt have constructed 5 Fire Stations of which Chumukedima Fire Station was inaugurated on 13/05/2011 and Kiphire Fire Station was inaugurated on 04/12/2012. Today i.e. 20/11/2015 we are inaugurating Peren Fire Station. 1 (one) more Fire Station will be inaugurated within this month. Therefore, within 5 years our state have constructed 5 (five) fire stations. But we still have a shortage of 35 Fire Stations.
MHA, Govt. of India had recommended 4 (four) Regional Training Centre (RTC) throughout the country for which Nagaland State is also selected for our region. In this regards, Government have set up a committee headed by Shri Wepretso Mero, Secy Home (Retd). The committee had surveyed 4 (four) sites for Regional Training Centre and ultimately Chiechama, Kohima District was selected for Regional Training Centre. Therefore, the Government had already acquired 58.43 acres to establish this Regional Training Centre. The Dept will continue to strive for establishment of the required Fire Stations and Regional Training Centre in the years to come.
With the increasing development in all spheres of our life, we ought to protect our lives and properties from fire disasters. Among various disasters like earthquake, floods, landslides, fire, etc. fire disaster is the most frequent occurrence.
As a whole country in general, fire incidents is also very common every year. The role of fire services has been dramatically changed from conventional fire fighting of buildings to hazardous materials incident, rescue operations during natural disasters like earthquakes, landslide floods, terrorist attack etc. The incidents of deaths due to accidental fire in the country are quite alarming - upahar cinema hall fire incident at Delhi, fire incidents held in a school of kumbhkonam (Tamil Nadu) in 2004,IOC depot (Jaipur) in 2009,Amri hospital (kolkota) in 2011 have added multiple dimensions to fire incidences and cautioned to take effective measures to modernise fire services. The fire services has to be transformed into multi-hazard response force capable of acting in all types of emergencies. Data shows that there were a total of 20,772 deaths in comparison to 19,222 deaths in the year 2006.
Even in Nagaland the records of fire incidents for the last 5 (Five) years – 2011-2015 (June) is quite alarming:
| | | | |
| --- | --- | --- | --- |
| Total fire call | Total life lost | Property lost | Property saved |
| 776 | 21 | 58.55 cr | 205.17 cr |
With the rapid random urbanisation of towns in our State especially Kohima and Dimapur, the fire incident occurrence also most frequent in these two cities. Therefore, the Department have already submitted a proposal to the Government that prevention of fire disaster be a part of Kohima Smart City Plan. Hon'ble Parl Secy also expressed his thanks and gratitude to L Khel and Kohima Village for their magnanimity by giving their land to the Govt.
In his conclusion speech, Hon'ble Parl Secy appeal to the public to cooperate with the fire fighters so that with public cooperation we can protect our life and properties from fire disaster.